OXON HILL, Md. (WJZ) — Police have identified the victim in a deadly stabbing Monday night at a Prince George's County Popeyes restaurant as 28-year-old Kevin Tyrell Davis.
Davis and another man reportedly got into an argument after Davis began cutting in front of people in a line for customers ordering the restaurant's new chicken sandwich, police said. The confrontation happened before either man bought a sandwich.
READ MORE:
Maryland Prepares For Increase In Patients After Roe V. Wade Overturned
That argument spilled into the parking lot where Davis was stabbed once, police said. He was hospitalized and later died.
Police identify victim at 28-year-old Kevin Tyrell Davis @wjz https://t.co/41eWjAHQix @PGPDNews pic.twitter.com/rUSzCgYLtP

— Rachael Cardin (@RachaelCardin) November 5, 2019
At a news conference on Tuesday afternoon, police released photos of the man wanted in the stabbing and a woman who was seen with him. Police said they believe the woman has information about the incident and would like to speak with her, but they said she is not a suspect.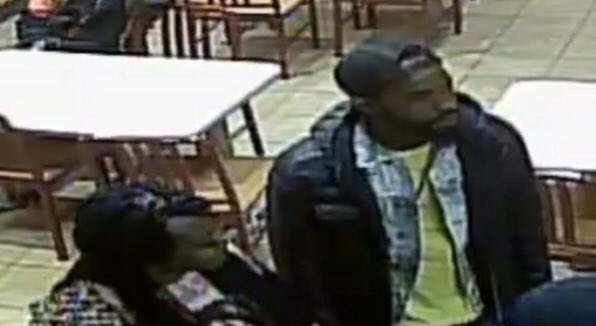 Credit: Prince George's County Police
Popeyes released a statement Tuesday in the wake of the stabbing.
"What happened in Maryland last night is a tragedy and we are saddened to hear about this senseless act of violence. Our thoughts are with the victim's family and friends. We, along with the franchisee, are fully cooperating with local authorities and actively working to gather more information," the company said.
READ MORE:
Johns Hopkins Experts Describe Updated Gun Control Laws As 'Great First Step'
Friends told WJZ the fight was not over the chicken sandwich but wouldn't elaborate on what led to the fight.
"This wasn't […] about a chicken sandwich or anything like that," Davis' friend Tre Martin said. "(It) seems more like a misunderstanding that escalated to another level."
Davis' friends have set up a memorial for him outside the restaurant in Oxon Hill.
A small memorial has been started by friends in a parking spot outside the @PopeyesChicken restaurant in #OxonHill @wjz https://t.co/dGGhtYQdrp pic.twitter.com/VEbdCNNyRO

— Rachael Cardin (@RachaelCardin) November 5, 2019
Customers, meanwhile, were shocked to hear what led to the stabbing.
"It don't make sense, I mean you can get it anytime," one customer said.
MORE NEWS:
Baltimore's Mayor Scott Frees Up $300K In Funding For Pro-Abortion Organizations To Assist Women
Police said the suspect is considered dangerous and they're asking anyone with information to call them.